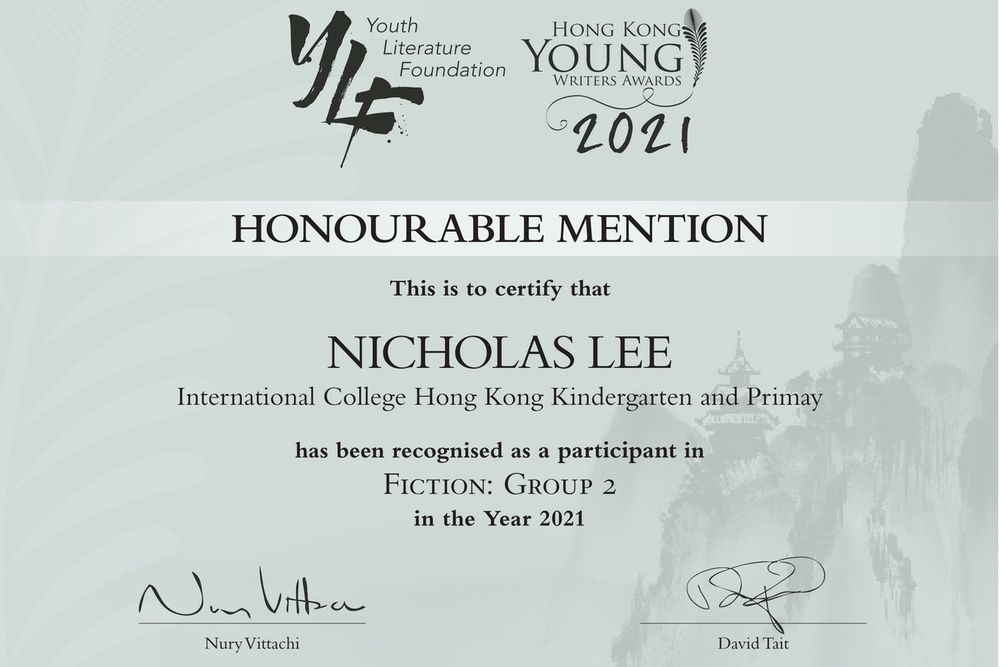 Hong Kong Young Writer's Award
Congratulations to Year 6 student Nicholas Lee who has been selected for an honourable mention in the Hong Kong Young Writer's Award.
Nicholas narrowly missed being shortlisted for an award, but his work impressed the judges so much that they wrote to commend him on it.
It is the second time that Nicholas' writing efforts have been singled out for praise in this way.
The HYYWA is an annual competition and fantastic opportunity for aspiring writers to showcase their talents and creativity. The awards encourage and recognise excellence in English writing and artwork among students and this year's theme was Tales from China's Magical Mountains.
Nury Vittachi, Chairman of Judges wrote to congratulate Nicholas on the excellence of his entry.
He said: "The judges loved it. Yours was one of the pieces that narrowly missed being a finalist, so we thought it was worth letting you know how close you came.
"The main purpose of this letter is to say a big thank you, and to encourage you to continue to use your imagination and create great stories. You have a gift for it!"
We commend Nicholas on his work, along with Hadley, Scarlett, Agatha and Dara, who all submitted creative pieces of work.