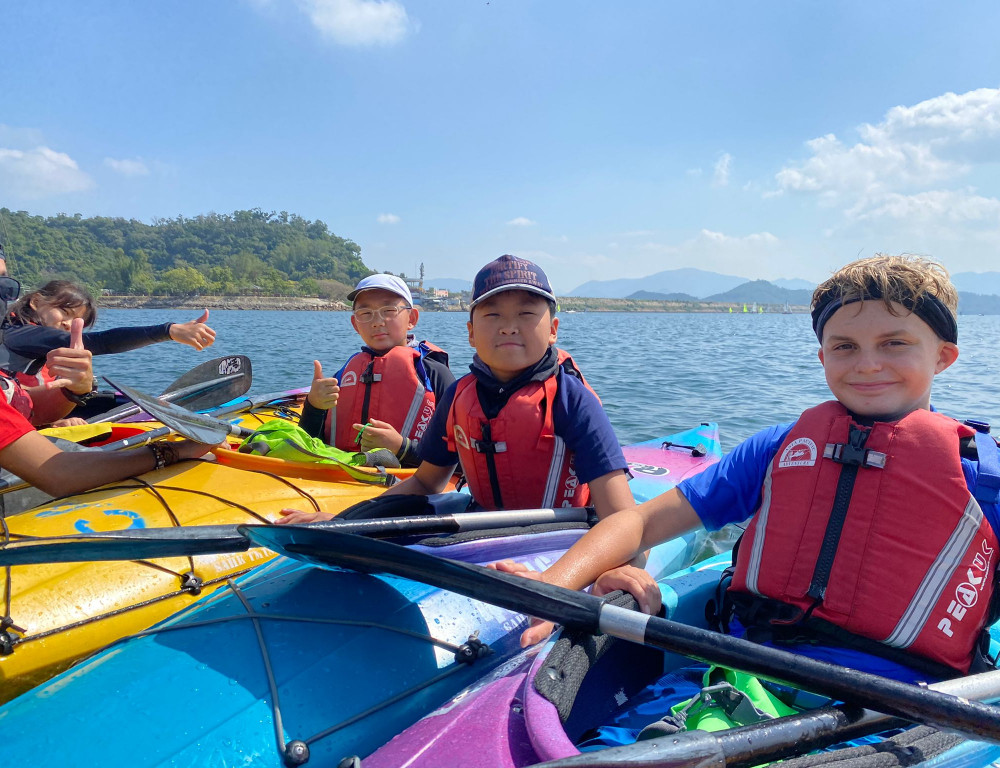 Outdoor Learning
Our school is a world away from the bustle and crowds of the city, in one of the few remaining green areas of Hong Kong.
ICHK is located in the New Territories, providing students with unrivalled opportunities for outdoor learning.
At ICHK, the way we teach students is just as vital to the learning experience, as the content we deliver. Our innovative outdoor education programme is evidence of this, and in recent years has been firmly established as one of the central pillars of our school.
Our unique outdoor learning programme introduces students to the ICHK Secondary philosophy, helping to develop the key skills of confidence and resilience which are central to our approaches, and our approaches have won acclaim and been shared at global conferences.
Our school is just a short distance away from the stunning Plover Cove, with the whole area rich in opportunities for outdoor learning. Students are able to make use of the beautiful Nam Chung Valley, Bride's Pool, Luk Keng and Starling Inlet. Outdoor learning is built into the fabric of the curriculum, and students are able to walk, exercise, cycle, canyon, measure, think about literature, explore history and work in our beautiful surroundings.
The great outdoors allows them to put learning into a real world context. Being able to use trigonometry to measure one side of a triangle is useful to answer a maths problem. But out in a canyon when you need to know the height of a wall you will abseil down it is vital.
Students are able to conduct fieldwork and science experiments in their surroundings. Solving problems, working as a team, spotting difference, making, reviewing and developing plans- all are more immediate and real when you are doing them in the real world.
We are pleased to share this video from Director of Out of Class and Experiential Education Douglas Kidd, in which he shares insights into Curriculum X and our outdoor education programme.
Our pioneering Outdoor Leadership Award recognises students for their work in outdoor education.
Senior students are given opportunities to help lead activities including canyoning, and Wild Science days with our partner primaries, enabling them to develop key life skills including communication, planning, organisation and problem solving.
The certificate is a major addition to student portfolios and university applications.
In our uniquely natural environment, students play sport and enjoy after school activities from dozens of choices ranging from sailing and horseriding, to environmental action. They are able to make full use of the nearby coastline and country parks for hiking, sailing, kayaking, cross country running and cycling.
At ICHK, we believe that the right education requires the right environment – and ours ensures that all students are given unique outdoor experiences which help them to thrive.
Find out more about our approaches:
Sports Programme
Sport is an important element of the curriculum at ICHK, and forms a vital part of the fabric of our community.
An extensive programme is offered and the school's unique location provides students with unrivalled opportunities and outdoor experiences.
Many students represent the school in different competitions including football, hockey, rugby, swimming, athletics, netball and basketball. We provide swimming lessons, have a cross-country running club and participate in sporting events all over Hong Kong.
Our key aim is to challenge students to develop character through sport and physical activity. We ask students to step out of their comfort zone and challenge them to grow in an environment driven by values such as determination, resilience, ambition, self belief and confidence, honesty, integrity, commitment and sportsmanship.
Health includes not only physical well being but also mental and social well being. Thus, we seek to create an environment in which all students feel comfortable and able to represent the school in a sporting context, striking a balance between success and participation. We believe that this contributes towards the formation of lasting friendships and fond memories and that it also contributes to the academic achievement of students through enhanced self esteem and the development of character and virtue, including the traits embodied in the IB Learner Profile.
Our vision is to be the leading school for Touch Rugby in Hong Kong and to be known within the wider community for our sportsmanship and enjoyment of hiking and outdoor pursuits.
Different sporting options are rotated during the year, to ensure students take part in a wide variety of activities. Football, touch rugby, handball, badminton, field hockey, climbing, table tennis, rounders, netball, cricket, ball hockey, volleyball, basketball, orienteering, ultimate Frisbee and kabbadi are all included in the curriculum, along with our unique College Rules.
Thanks to our unique location, we are able to offer a diverse extra curricular activities programme, and students are able to make full use of the nearby coastline and country parks for hiking, sailing, kayaking, cross country running and cycling.
Find out why and how we promote sport at ICHK: