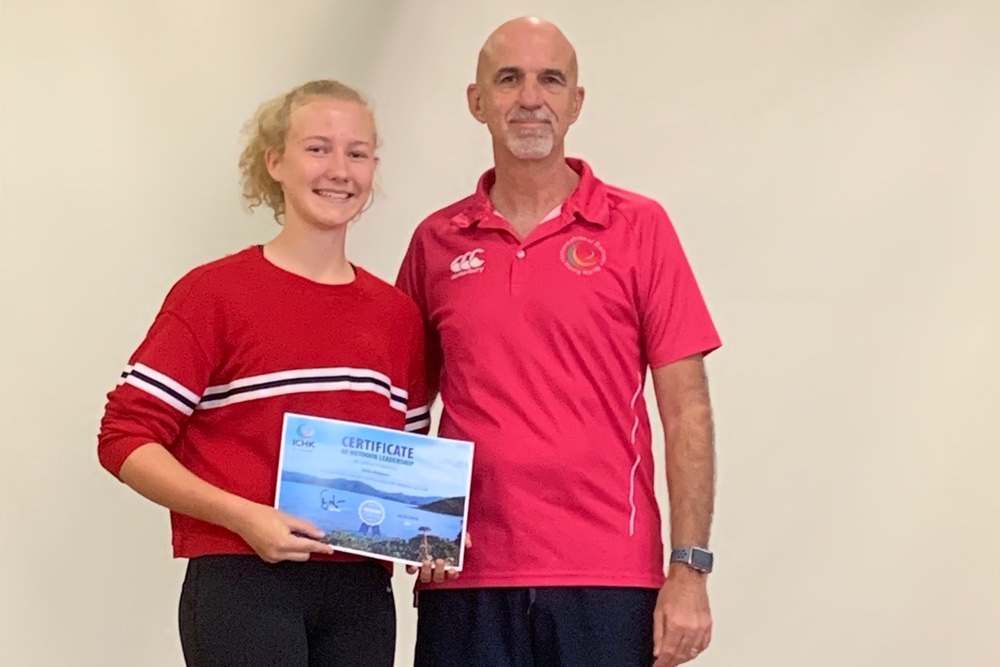 Outdoor Leadership Awards
We are delighted to award ICHK's inaugural Outdoor Leadership Certificates.
This exciting initiative has been developed at school over the past year and recognises students for their outstanding work in outdoor education.
We are pushing the boundaries again at ICHK, where we are proud to be embracing innovation and offering a more holistic approach to learning in the round.
By virtue of this pioneering project, students are given meaningful opportunities to help lead activities for their younger peers and students from our partner primary schools.
Kaisla Majapuro, Fred Davies and Astrid Kwok are the first recipients of the certificates, which will be a major addition to student portfolios and university applications.
They have been recognised for supporting events like the ICHK Hong Lok Yuen Year 4 adventure day at Bride's Pool. Their input and contribution was central to the success of the day: they helped and encouraged the students in moving around carefully, swimming, exploring and rock-jumping; they took responsibility for the students remaining hydrated; they spotted children who were nervous and needed support to step outside their comfort zone, and helped them take the next step.
They carried equipment and took care of resources, adjusting ropes, inflating boats and lighting fires. They responded to changes in the weather, in timings and the needs of the trip leaders to add or subtract activities. They thought on their feet.
Events likes these offer our students unique opportunities to develop key life skills including communication, planning, organisation and dynamic problem solving.
We are now officially recognising this work and increasing the number of opportunities for our students to learn in this domain. This year we will offer 10 events to our partner primaries, as well as opportunities to help with Y8 canyoning, other Y7 events and during CAS+ week. All student volunteers receive training, feedback and opportunities to input their own ideas.
Throughout the year there will also be opportunities for first aid training, AYP and qualification in outdoor activities including sailing, kayaking, sport climbing or camp-craft. Anyone who volunteers for and successfully completes at least four activities during their time in Y10-13 will be entitled to the award of this certificate.
We are also partnering with a number of HK outdoor education companies to secure certificate holders with an interview for work after school. Fred Davies has been given an opportunity for work between leaving ICHK this year and starting university in Australia.
We are delighted to be offering this award at ICHK, where our forward-thinking approaches to outdoor education have won acclaim and been shared at global conferences. To find out more about our approaches click here.