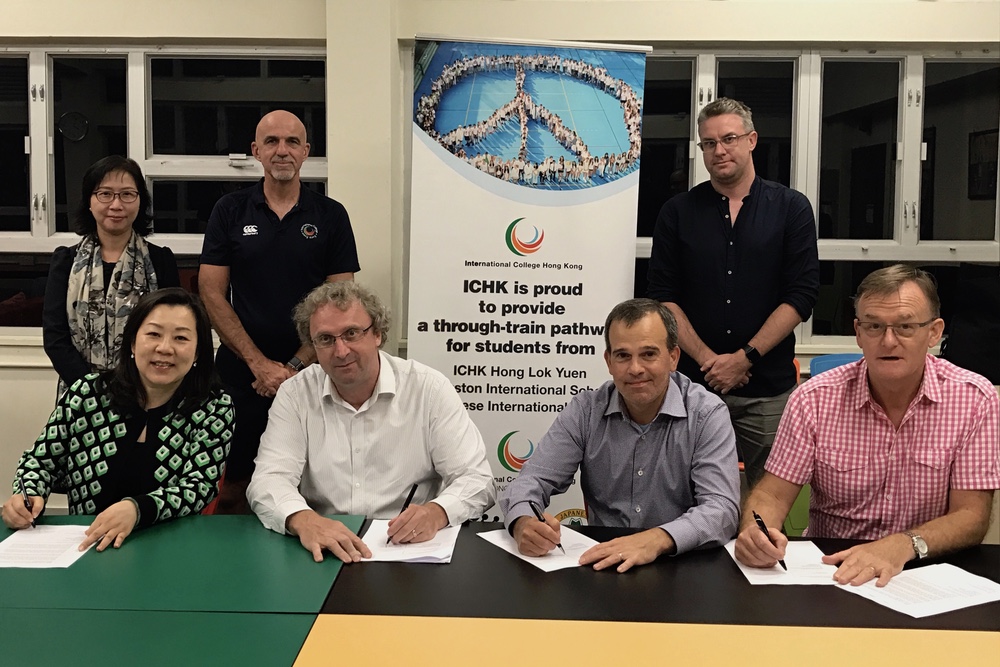 A new agreement has been signed with the primary partner schools of ICHK, ensuring the long term security of a through-train education for those with children of primary age.
The new partnership guarantees places for students from ICHK Kindergarten and Primary, KIS and JIS at ICHK. The three schools set up ICHK nearly 10 years ago, to meet a growing demand for secondary school places in the New Territories.
They wanted a school which matched their own philosophy of education – one that would be student-centred and community minded, where children would feel cared for and could flourish in a nurturing environment.
Since then our school has gone from strength to strength, accredited by worldwide bodies for the quality of our educational programmes and recognised by Cambridge Strategies as one of the top 100 schools worldwide for innovation.
The original 10 year agreement has just expired and the three primaries were strong in their desire to renew their commitment to our school. A formal legal agreement has been signed between representatives of all schools.
Head of ICHK Toby Newton said: "We are very proud of the strong partnership with ICHK Kindergarten and Primary, the Japanese International School and Kingston International School. Our staff work closely together to provide a strong through-train pathway, and ensure that students are well supported throughout the different stages of their education."
ICHK Kindergarten and Primary Head of School Adam McGuigan said: "I am very pleased that our commitment to and collaboration with ICHK Secondary will continue. It is rewarding to share a vision of developing an innovative learning community. It gives meaning to what we do each day."
KIS Founder and CEO Emily Ngan said: "Kingston is very excited to continue our wonderful partnership with ICHK. The school provides an excellent through-train pathway to students from Kingston and we are so proud of the achievements of our students who have continued their studies at ICHK. In addition we are excited with the implementation of our Kingston Chinese programme at ICHK."
JIS Principal Simon Walton said: "The development of ICHK has been a significant milestone in the development of Japanese International School. Being involved with the planning and creation of ICHK from the start has been a real bonus for our school. We now have the security of a through train from four years old to 18 years old for all our families, with the added bonus of sending our students to a school with a creative philosophy very similar to our own. I look forward to many more years of collaboration and further development."