ICHK has unveiled a new curriculum strand, as we proudly push forward the boundaries of assessment.
We are offering senior students the opportunity to attain the ICHK Mastery Transcript, developed and structured to meet the provisions of the Mastery Transcript Consortium.
The Mastery Transcript, offered as an additional qualification to the IB Diploma, features no grades, is not standardised, and yet can be processed by the best university admissions officers within two minutes.
The aim is to value and recognise graduating students for all their attributes, capabilities, passions, achievements, and interests, not just for their academic abilities.
Backed by the Mastery Transcript Consortium, it brings together like minded schools and universities from around the world in seeking a meaningful alternative to standardised testing.
ICHK is one of a growing number of schools globally which are offering this qualification, and, the first school in Hong Kong to graduate students with a MT.
The genesis of this qualification marks a significant point in the development of ICHK, as we openly and honestly search for better ways to help young people learn and attain their ambitions and aspirations.
It is the culmination of an approach that we have been developing and refining for a number of years, through our innovations to timetable, curriculum and pedagogy. These include Free Learning, Human Technologies, Deep Learning and outdoor learning, all of which serve to offer our students more choice, more flexibility, different work practices and more opportunities to develop skills and attributes which are not addressed by examinations.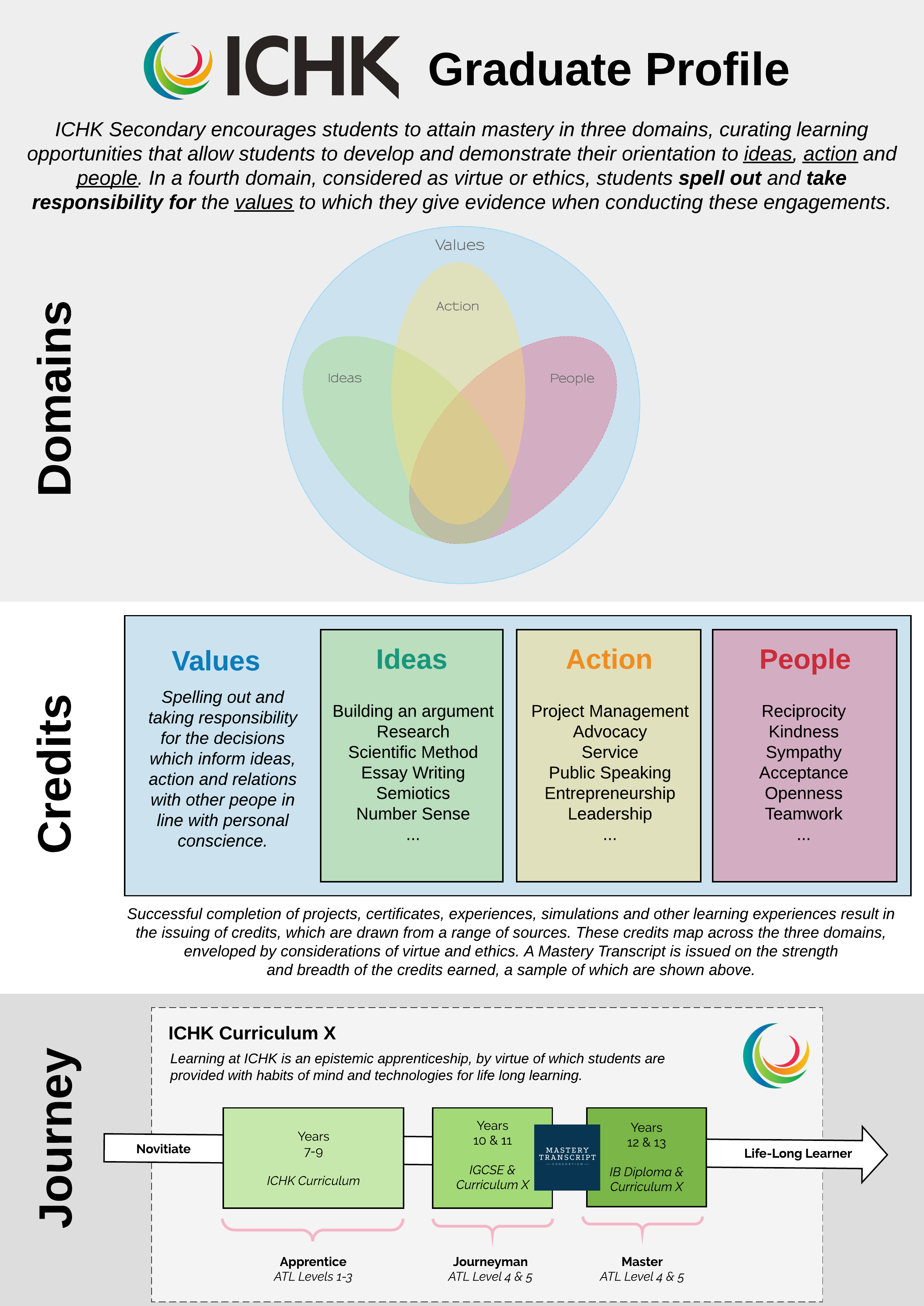 The ICHK journey to mastery begins in Year 7, as new students begin their Epistemic Apprenticeship with a focus on Approaches to Learning, backed by ICHK's 5+1 Model of learning.
During Years 10 and 11, students move into the Journeyman phase, in which Enrichment & Flow classes are used to introduce them to the Mastery Transcript, and provide them with the time and opportunities they need should they choose to pursue their own transcript.
Students are offered opportunities to become a 'journeyman', through engagement with projects, activities, internships, and other learning experiences.
Successful completion will result in credits, which will be mapped across three domains: Ideas, Actions and People. All of these are encompassed within a Values framework.
This work continues into Years 12 and 13, as students move into the IB Diploma, and start to enjoy unscheduled personal study time within their timetables.
Credit-worthy engagements could include leadership activities, work experience, project management, teamwork initiatives, public speaking, class work, service to others, and other examples of learning which demonstrate the skills and attributes needed to lead a successful life.
Students build on this work to the point where they become Masters and credits can be awarded for substantial, self-directed, verifiable achievements. A combination of credits from one or more of the domains will qualify students for the award. The mix they achieve will be a unique and individual to them – and will be a reflection of the person they are becoming; and of the efforts and energy that go into that project of growth and consolidation.
Our longer term hope is that the efforts of a growing number of schools, of which we are proud to be one, will come to promote a wider view of learning. It will be a view that helps bring about a world where the complexity of human potential is genuinely valued and nurtured in the teenage years, and where young people graduate to university or to useful employment having been fully known and recognised by the schools in which they study.
This all builds on our earlier work to award the ICHK Diploma which aligns exactly with the aims of the MTC.
Ross Parker Talks About Mastery Transcript
View Graduate Transcripts
Serena Cheung, Class of 2020
Click on the image below to view the live transcript, using this code when prompted: GFDU5F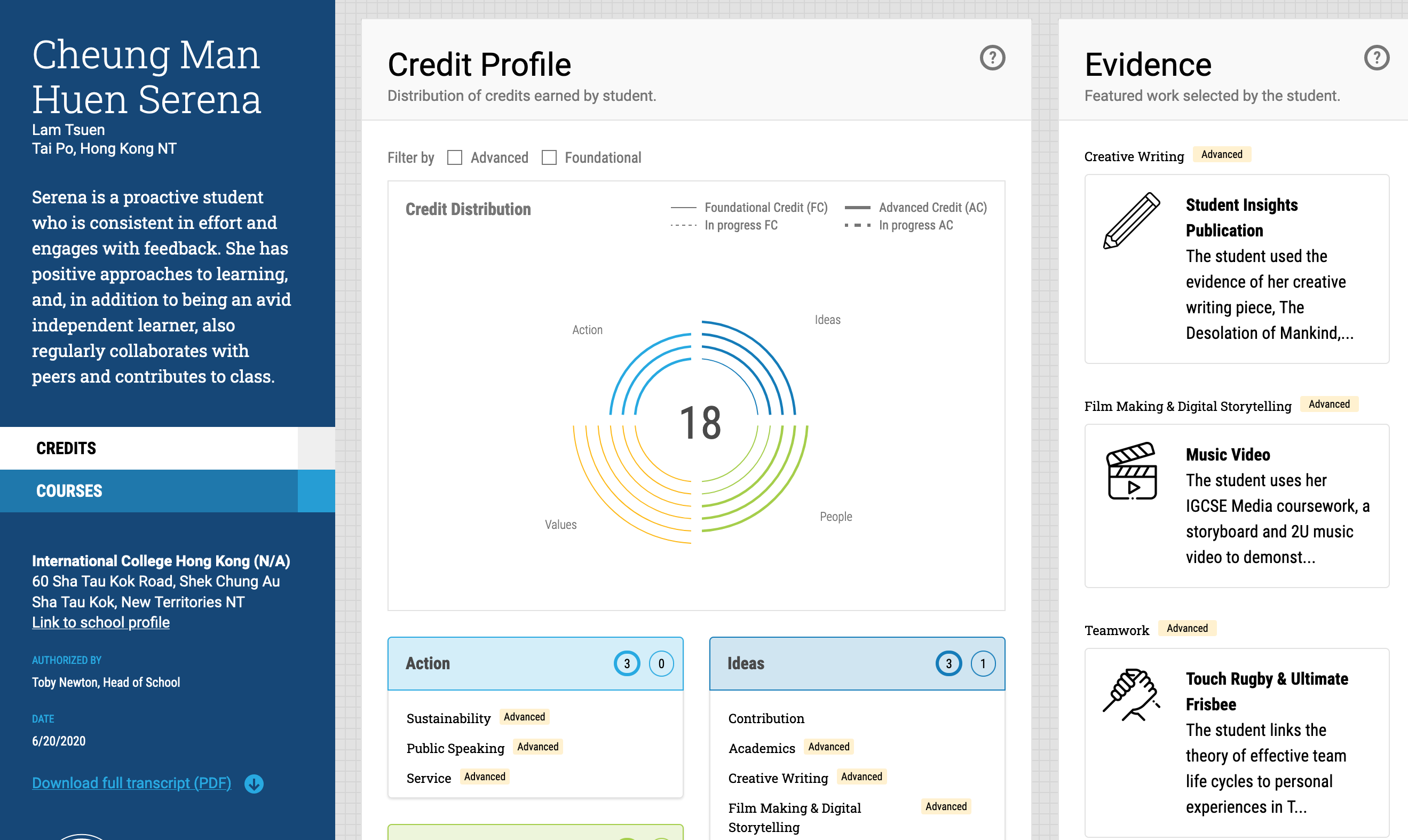 Katie Leung, Class of 2020
Click on the image below to view the live transcript, using this code when prompted: 9EHCAR