ICHK students achieve outstanding IBDP and IGCSE results, and all secure their first choice university destinations.
Our IGCSE results are in line with the highest achieving schools in Hong Kong and beyond, with an incredible 54% of the grades attained by our students awarded at A* or A.
Since our very first cohort, our IB Diploma Programme students have scored above world averages and have progressed to prestigious universities around the world. Teachers work very closely with students to unlock their passions, and a key aim is to identify the best possible courses to suit those passions.
Our graduates are studying at leading universities including British Columbia, Edinburgh, University of Hong Kong, Loughborough, Delft University of Technology, Nottingham, Melbourne, Central Saint Martins, San Jose California and Victoria University of Wellington. They have successfully gained places on courses including English, Engineering, Engineering, Bio Sciences, Law, Business and Computer Science.
But diploma scores do not tell the whole story. To really appreciate our students' success, we need to consider what is termed 'value added' in education (see images below). This refers to whether a school helps its students gain higher results than their previous test scores have predicted.
At ICHK, GCSE students add an average 1.07 grades per subject. So, a student whose CAT scores predicted a grade B, will typically achieve a grade A. For students taking the IB Diploma Programme, an average 80 UCAS points have been added to the grades predicted by the IGCSE performance.
This year again our IBDP pass rate was 100%, with an average score of 35.1 points. Five students scored 40 points or above, which placed them in the top 6 or 7 per cent of candidates globally over the past two years. They were joined by a number of candidates who scored 35 points or above, which would place them in the top 24 or 26 per cent of candidates globally over the past two years . In other words, half of the students at ICHK attained grades within the top 25% worldwide.
As a small school, with a low student to teacher ratio, ICHK can provide an education that adds value, and enables students to out-perform students elsewhere.
Our whole community is extremely proud of our tradition for academic excellence. Our students embody the quality that we emphasise above all others at ICHK: a growth mindset – a frame of mind that welcomes challenge, values effort, persists in the face of obstacles and loves learning.
Please see our Essential Information for US Universities page for our school profile.
1. Student scores in line with predictions based on standardised tests on school entry, showing progress but no value added.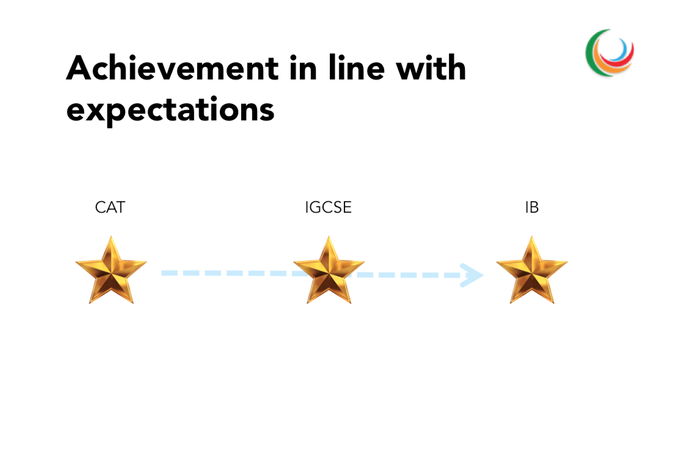 3. Example of a high achieving student, who performed well on entrance tests, and then met expectations through the IGCSE and IB Diploma examinations.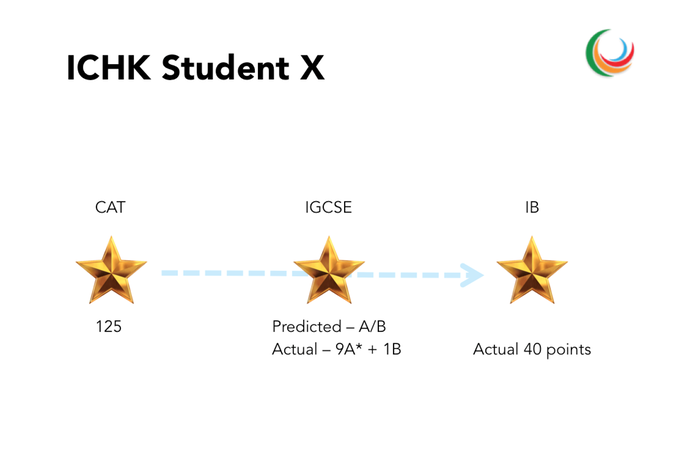 2. Student scores significantly above predictions, demonstrating that school has 'added value' through the educational process.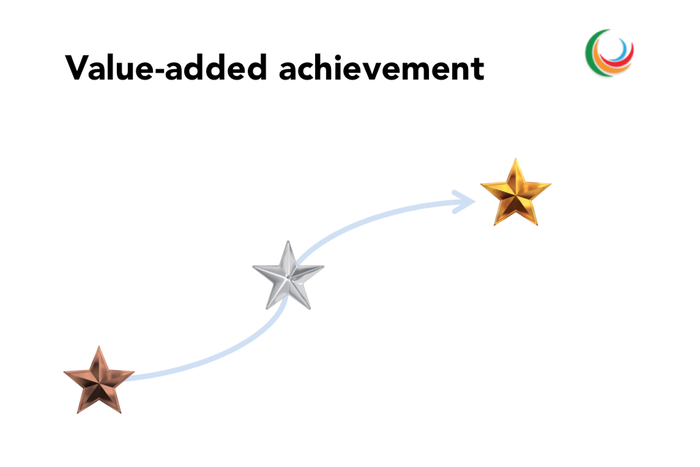 4. Example of lower achieving student, who performed less well on entrance tests, and then significantly exceeded expectations through the IGCSE and IB Diploma examinations.