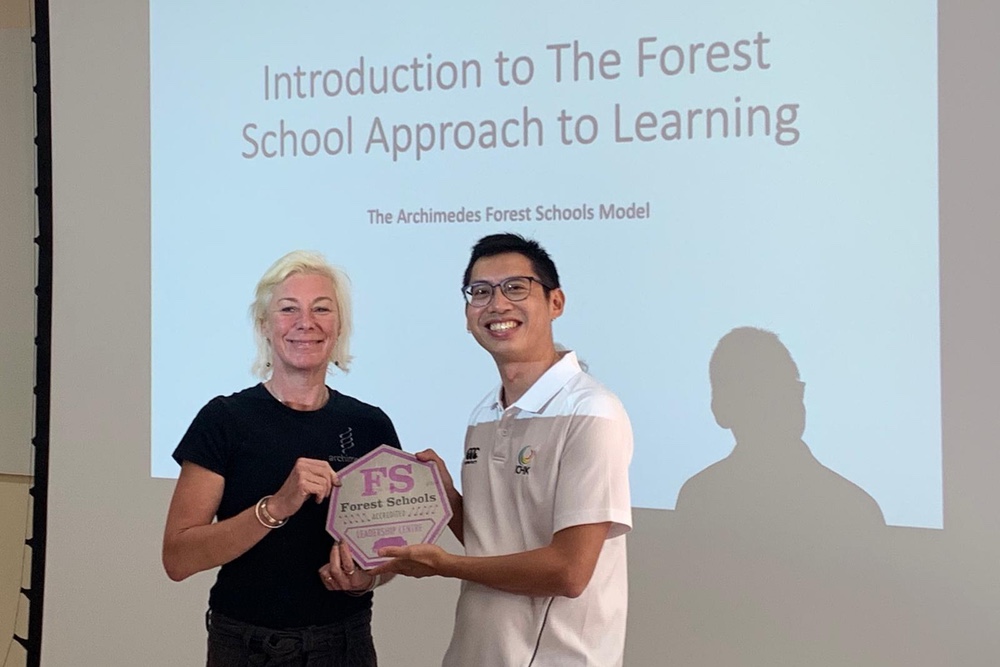 Forest School Leadership Centre Award
We are delighted to announce that ICHK Kindergarten and Primary has been accredited as one of the best Forest Schools in the world.
We have been officially named a Forest School Leadership Centre, which is the highest level of recognition for Forest Schools.
This is a huge milestone for us, as we realise our vision of becoming a leader in outdoor learning and Forest School education in Hong Kong.
Sarah Blackwell, Chairperson of the accrediting organisation Archimedes Earth, travelled to Hong Kong to present the award to us on the weekend.
Under the accreditation system, we have progressed two tiers, from Development Centre to the highest quality mark of Leadership Centre.
The award recognises our work to ensure that the Forest School ethos encompasses the whole school, not just specific year groups or teachers.
It is also a signal to the wider education world that we recognise the importance of responding to young people's development needs and that transforming lives through Forest Schools, is key to what we believe.
Over the past year, more and more of our teachers have trained as Forest School leaders.  We now have six qualified Level 3 teachers, who are able to develop and lead a Forest School programme. Another 15 teachers have begun Level 1 training; one teacher has completed Level 1 and another one has completed Level 2.
The Forest School philosophy has been deeply embedded into our school curriculum and across different learning areas, enabling students to learn and flourish in the outdoors.
We actively promote Forest Schools in the region through networking, organising training workshops and sharing our practice with visitors from all over.
We passionately believe in the benefits of outdoor learning, and our programme has been developed to be a real part of our school culture.
We know that if children have access to a rich outdoor environment, they will have greater self-esteem, be more confident and develop better concentration, resilience and independence.
We are very proud to have received this accreditation and we look forward to developing more and more unique outdoor learning opportunities for your children and future students at our school.