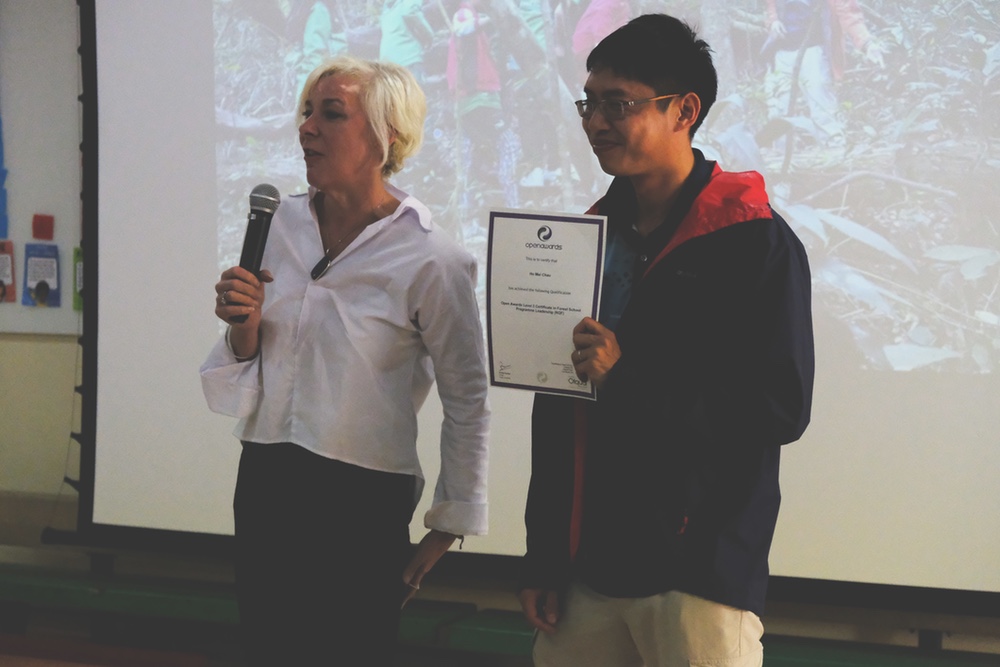 Forest School Global Recognition
We are delighted to announce that ICHK Hong Lok Yuen has been accredited as the first Forest School Development Centre outside the UK.
We were officially named as Asia's inaugural Development Centre on Monday – marking an important milestone in our vision of being a leader in outdoor learning and Forest School education in Hong Kong.
Sarah Blackwell, Chairperson of the accrediting organisation Archimedes Earth, travelled to Hong Kong to present us with the award.
To secure the accreditation, our school's sites and programme were audited and assessed by FSE, the UK's largest and most experienced Forest School training providers.
We are now planning to go above and beyond this qualification and become the regional centre for Forest School teaching and learning. We have already organised HK's first Forest School Level 3 practitioner training course, with local and overseas participants taking part.
Over the past 18 months, a major programme has been underway to embed the Forest School philosophy into the school curriculum.
Forest School Leader Ho Mei Chau delivers a structured programme of lessons, which enable students to learn and thrive in the outdoors.
Unlike other schools in Hong Kong,  we have a spacious outdoor campus with our own forest school area that students regularly access.
Our stunning location in the New Territories also provides children with unrivalled opportunities for learning beyond the classroom in locations like Tai Po Kau and Bride's Pool.
Learning outdoors is an integral part of the school culture and not just an 'add-on' to the school programme.
Ho Mei is among the first of Hong Kong's qualified Level 3 Forest School Practitioners, and passionately believes in the benefits of outdoor learning. His role at the school marks an amazing personal journey, as he was a student himself when the school first opened 35 years ago, and now has a child of his own in pre-nursery.
He said: "Research shows that if children have access to a rich outdoor environment, they will have greater self-esteem, be more confident and develop better concentration, resilience and independence. In Hong Kong this is especially important as outdoor space is so limited and many children don't get enough opportunities to be outside.
"At Forest School, students are engaged in activities, which as well as developing a deep appreciation for nature, encourage them to become independent, solve problems, use their imagination, take appropriate risks within boundaries and initiate learning for themselves.
"We are delighted to have received this accreditation.  It is a huge step for us, and is especially meaningful as we are celebrate our 35th anniversary. But more than that it represents a real milestone for outdoor education in Hong Kong."
You can learn more about our pioneering approach through our website via this link.