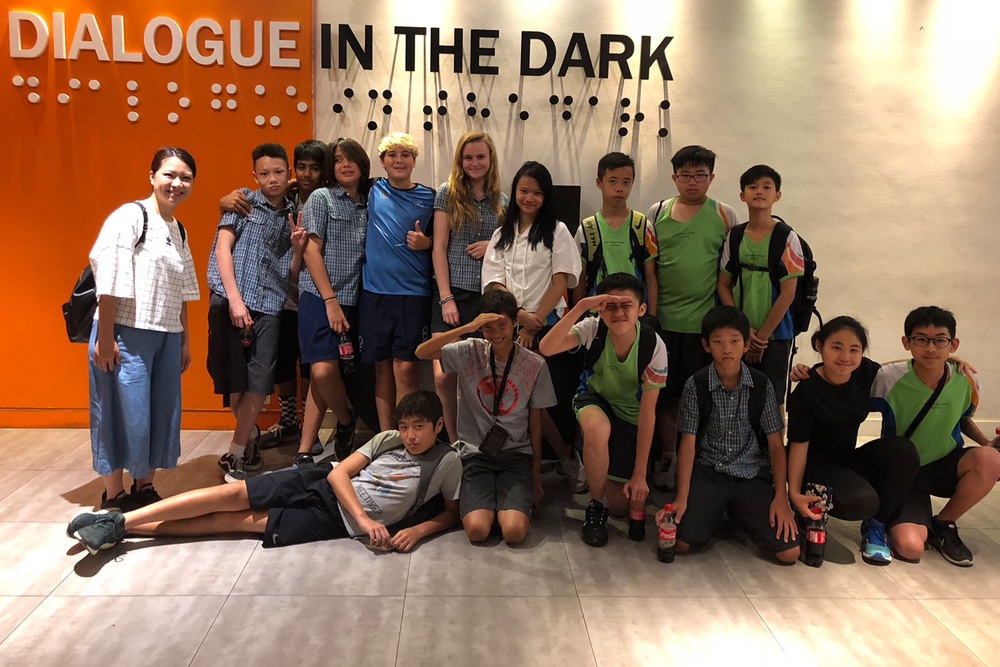 Ray Chan is Head of PE, Activities & Deep Learning at ICHK
As I reflect upon the year, my mind naturally tends towards the Deep Learning programme that we have initiated this year.  As the coordinator of this programme, I feel privileged to have worked with staff on a wide-ranging curriculum from Ark Eden, Bamboo Creativity, Cantonese Opera to Zombies and literally everything in between.
One of the primary goals in education is to have students engaged in their learning and there can be no doubt that we have achieved that with this programme.  It helps that students have been able to make their own choices about what they learn, and whether they are interested in Mathematics, outdoor education, or cooking, almost every student had their first choice available to them.  I have shared in a previous bulletin some results from our student survey with some of their comments which you can read here, and so I will try not to overegg the pudding by going over this point. It simply serves to note that student motivation and engagement is high and they would generally like more of Deep Learning – both more frequently and have it extended to other year groups beyond Years 7 to 9.
Another aim of the programme has been to encourage an interdisciplinary approach combining subjects into an overarching theme.  One of the problems with modern education has been the way subjects have been parcelled up and students consider them only in their separate silos.  Often, I am assailed by students for discussing in my PE lessons, history, science or maths.
"This is not PE!", they cry.
"Everything is connected", I counter.
Again, I have been inspired as colleagues have made connections in a variety of ways, from combining Maths and snowboarding, to teaching diverse subjects such as first aid, epidemiology, PE and shelter building into a unit based on zombies.  One of my own personal favourite moments was on day four of the programme in which we had taken the students on "Coast" and the "Hakka" students together on a day to the Geo Park of Lai Chi Wo – a walled Hakka village.  Hiking on the way back to school, we stopped for a rest by the coast of the Starling Inlet and we were able to bring together the learning from the separate units to elicit the importance of tidal flow and the role of shellfish in establishing the nearby Hakka communities, erosion and deposition, and the use of lime as a building block to civilisation.  It was fascinating to watch students learning from one another and teaching each other.  For instance, we had Year 9 students who were able to explain the chemical formula of lime (CaCo3) to Year 7 students who had not yet come across it in their own Science lessons.
Another aim has been to extend student learning experiences to life beyond the confines of the classroom and school, to go on field trips and site visits across the whole of Hong Kong.  Again, it's been absolutely wonderful to see our students have the opportunity to travel from Lantau to Sai Kung, Tuen Mun to Central taking various modes of public transport, biking, kayaking and hiking.  They have visited museums, a rice factory, Hong Kong Sport Institute, Crossroads – a charity working with the homeless, a robotics lab,  historical sites, permaculture farms, the list goes on.
Students have been able to learn from experts in their fields, from sailing, scuba diving and climbing instructors, a Chinese opera performer, a world renowned roboticist, a nutritionist, a former professional rugby player and entrepreneur, social innovators who have built a prototype boat as they journey around world promoting plastic free seas, biologists working on sustainable farming projects, professional writers to the  chairman of the HK Sports Association for Persons with Intellectual Disability.  The stellar cast of supporting educators enlisted by my colleagues has been truly incredible and of immense value to our students.
I have been impressed with the wide range of interests of the staff that have been allowed to flourish in this environment.  Where else would Flora Lai be able to pursue her passion for Cantonese Opera, Ben Blain deliver a rope rigging course and Phil Morgan, Director of Creativity and Innovation, lead the Neverheard Beforchestra?  Phil's work in this and the Bamboo Creativity unit has been truly imaginative and ground breaking in a variety of ways and you can read more about it in his written reflection.
A brilliant feat of engineering and technical skill was the way in which our Maths teacher Jamie Holden used 3D printing, another Deep Learning unit, to create a mouthpiece to fit exactly into a pvc pipe so that it could make music.
The quality of the work has been outstanding and students have shown that given time and focus they can produce work of the standard that you can see here in the units of  Creative Writing and  Film Lab.   Some of the reflections that students have had to the Simulations unit, for example, demonstrated students have gained a valuable insight into different lives.  Andrea Cheng writes:
'This Deep Learning, Simulations, was an eye opening experience. Throughout, we had the opportunity to be placed into the shoes of those who have disabilities. We had the chance to walk around with our sight completely taken away from us, Dialogue in the Dark. We had to only depend on our other senses and use a walking stick. This was a difficult thing to do, although we had a guide, we were all panicking too much. Day 2 we got to go through an Aids experience, we listened to the stories of those who had HIV+ and Aids. All of the stories were very hard to listen to, as all of them got HIV+ through different ways. Overall this was a very interesting Deep Learning unit and I encourage others to try it.'
Michael Sullivan also agrees:
"Dialogue in the Dark really made me realise how hard it is for the visually impaired. The Aids X-perience was also very powerful. The stories and settings really made me realise how hard it is for a lot of people"
So, what have I learned from this year upon the implementation of Deep Learning?  Hong Kong is a vibrant city bursting with wide ranging learning opportunities.  We have world class teachers who do not only deliver programmed curricula set by external agencies, but are also able to respond to the students we have and the environment we are in, to provide inspiring and powerful learning experiences to engage the students.  Moreover, we have staff who are truly committed to delivering upon the promise to deliver a 21st century education in which students can see, feel, taste, and experience in order to learn together thoughtfully.