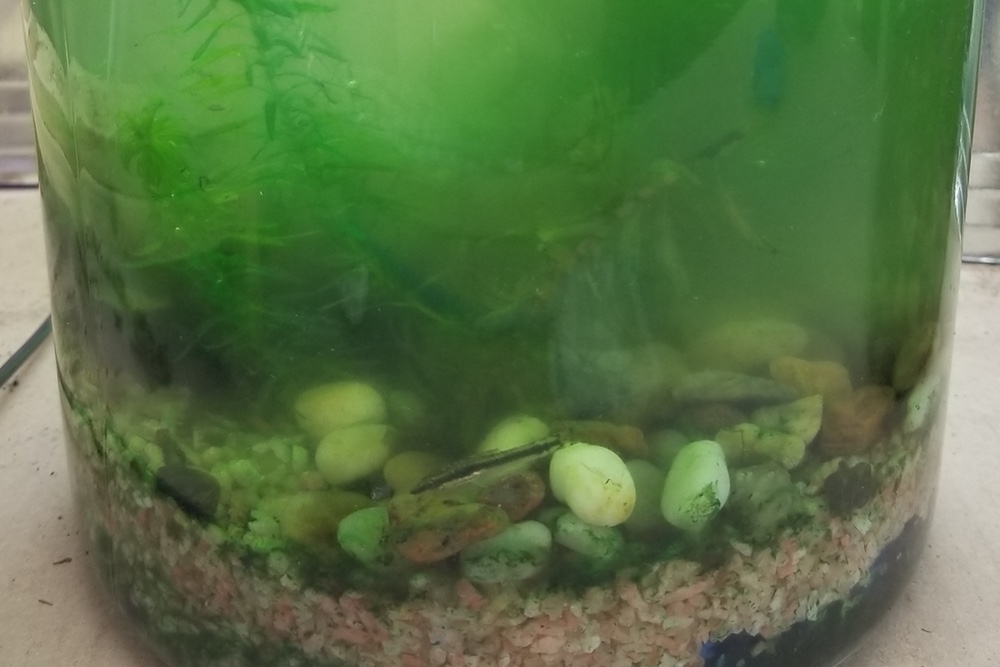 Jamie Holden is a Teacher of Maths at ICHK
If you happen to visit ICHK and climb to the top of C block to visit c307, you may be lucky enough to see two things. The first is the amazing view over Starling Inlet, a view unique to ICHK. The second is several jars on the window sill with various forms of algae growing. In many cases they look like, and they are, failed Science experiments, but if you look close enough at the largest jar, you will see the signs of life. One small fish will be looking back at you. The most miraculous thing about this fish is that it has been sealed in this jar since before the Easter holiday. Ok, not that exciting, but when you realise this jar has had nothing added to it, apart from sunlight, in that time, eight weeks, it should hopefully make you think.
What has been created is a mesocosm – a medium world. A closed ecosystem that is sustainable over a period of time. The mesocosm is one of the mandated practicals in the IB Biology course and the jars are the remains of the experiment carried out by our Y13s, currently undergoing their final examinations before entry to universities the world over. But I am not a Biology teacher, so why am I writing this?
Mr. Kay, whose lab is c307, knows I have a fish – a goldfish, which lives at ICHK and is also the remains of a Science experiment from the inaugural annual Science fair, the third iteration of which is happening this year, and he wanted some advice. After a short conversation, my interest was piqued, so now there is a mesocosm in my classroom, c203.
The mesocosm works like this: the plants produce oxygen through photosynthesis for the animals. The animals (snails, shrimp, fish) produce waste, which hopefully converts from ammonia to nitrates, which feeds the plant, helping it to grow. Due to the raised nitrate levels and light in the system, algae grows, which feeds the animals, who produce the waste etc.
I have added extra light to my system to aid photosynthesis and oxygen and I am getting ready to seal it soon.
My most enjoyable moments, with my mesocosm, besides watching the fish, have been the interactions with my students. The two Year 7s who helped set up the system – one of whom had created a waterscape for her Y6 PYP exhibition, the Year 8s and 9s who have tanks at home and offered advice on shrimp and fish, the Year 10 students, who decided they would help by providing me with more shrimp when out on a Science field-trip. The shrimp they provided were saltwater shrimp and therefore not suitable for my freshwater system, but the thought was there!
And, of course, as with all good concepts and insights, this one transfers. ICHK is a mesocosm of sorts, the staff, students, buildings and environment all provide their own inputs that help our ecosystem thrive. If the balance is right, we can continue our flourishing, sustainably, symbiotically, indefinitely. That's the job in hand …