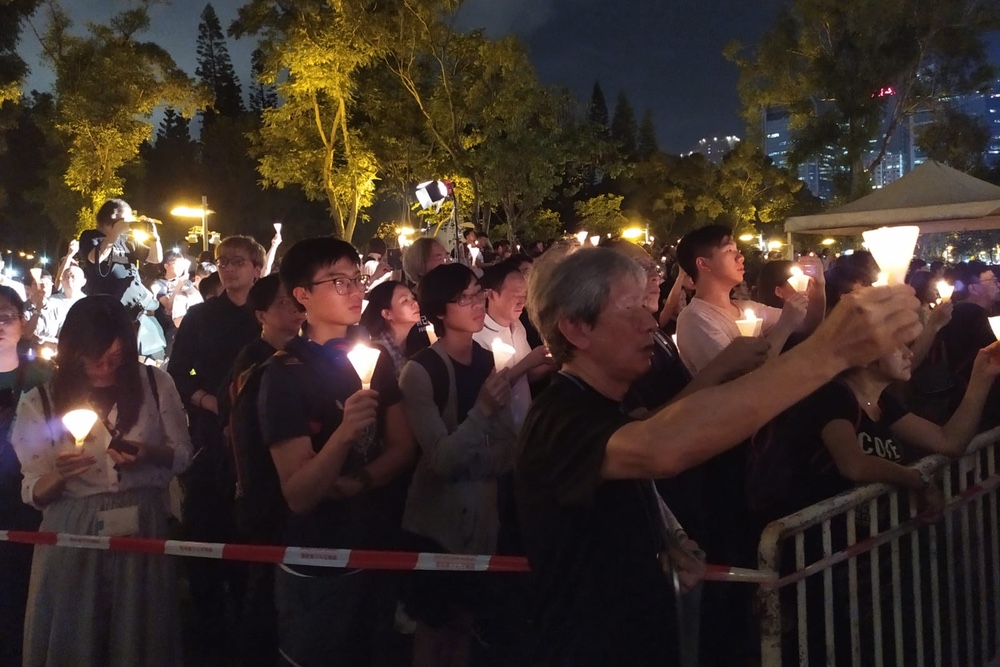 30 year anniversary of Tiananmen Square Protests
Jon Rees is a teacher of English, Human Technologies and Theory of Knowledge at ICHK
This week, I went down to Victoria Park to attend the 30th anniversary commemoration of the Tiananmen Square Massacre. Across this week, as many as 180,000 people are expected in a series of events to mark both that tragedy and to protest against the new Extradition Law that allows people arrested in Hong Kong to be sent to Mainland China: protestors say that this is unfair as Hong Kong and China's legal systems are significantly different and this is in opposition to the terms of the handover from Britain- where the integrity of Hong Kong's laws were to be guaranteed for 50yrs from 1997.
I was expecting a mass of people down at Causeway Bay, so got off the MTR a stop early at Wan Chai to both avoid the crowds, but also to take in the scene. Hong Kong is so densely populated though, I couldn't detect any increase in the usual volume of commuters flowing through the station! It was only upon immediately approaching Victoria Park that I became aware of the protestors; the entry to the park through Great George St. sent you through a funnel of different groups, including pro-Democracy campaigners and Tiananmen Mother's association, who were all dressed in brightly-coloured t-shirts and handing out leaflets about their causes. It made me sad to think of the mothers who have lost their children during the protests (many of those who died were university students).
The crowd gathered in Victoria Park were issued with a candle from organisers upon entering, and a very pleasant, calm and peaceful atmosphere purveyed as Hong Kongers gathered to talk quietly or stand in respectful silence listening to the speakers. I asked the people next to me if I could light my candle from theirs and these small shared gestures helped to create a sense of community.
In total there were about 20 different speakers, from witnesses of the event to various religious speakers, video montages of journalists' memories and song performances. All of these were mainly in Cantonese so, unfortunately, I wasn't able to follow too closely, but with the help of some friendly bystanders, I understood the main gist of the talks were about keeping the memories of those who died alive and trying to preserve the right to free speech. Hong Kong is the only Chinese territory where discussion of the events of Tiananmen Square is allowed.
Hong Kong is a 24-hr city which can sometimes feel so hectic. It was really special to stop and think about the events of the past and share in the pride and respect that Hong Kong citizens feel about their city. It was a credit to organisers and participants that the gathering of such a large group of people passed so peacefully and hopefully these events of remembrance will be allowed to continue long into the future.